Group News
Scout Popcorn is Now On Sale
September 19, 2023
You can support the youth of the 59th on their adventures by purchasing Scout Popcorn.Choose "Scouting Group" on the checkout screen, and search us up in the dropdown. Optionally, you can credit a particular youth.
Upcoming Events
Past Events
Established in 1968
The 59th Edmonton was chartered over fifty years ago by the Knights of Columbus at St. Agnes Parish, who saw that there would be a need for a youth organization in the new communities being built to the south of the church. After a few years, the Knights handed off management of the group to the (then-new) Greenfield Community League.
Constantly Growing
Since that time, the group has grown to serve youth from many communities around Greenfield, including Lansdowne, Royal Gardens, Aspen Gardens, Blue Quill, Duggan, and more.The group currently boasts two Beaver Colonies, two Cub Packs, two Scout Troops, one Venturer Company, and one Rover Crew.
Beaver Scouts
Beaver Scouts experience diverse activities and a world of new adventures. Through nature walks, short hikes, tree planting, games, crafts and family events, Beaver Scouts gain valuable social skills while making new friends along the way. From camping to hiking and games galore, Beaver Scouts develop a respect for nature and others while exploring the world around them.Beaver Scouts take part in activities such as nature walks, tree-planting, campfires, sleepovers, and camps.Motto: Sharing, sharing, sharing!
Cub Scouts
As a Pack, Cub Scouts plan adventures like hikes, weekend camps and water activities (like canoeing and kayaking), discovering their unique capabilities and personal progression along the way.In Cub Scouts youth can sleep beneath the stars, hike with gear on their backs, eat gooey marshmallows on a stick or see an otter splashing in a stream just a few feet away.Motto: Do your best!
Scouts
Scouts learn to blaze their own trail, delving into more leadership opportunities by planning adventures with their Troop and giving back to their community in a meaningful way. Scouts can take their outdoor adventure skills to the next level with activities like mountain biking, rock climbing and lots of camping.Through Scouts, youth discover their unique capabilities and personal progression as they discover the world through Scouting.Motto: Be prepared!
Venturer Scouts
Venturer Scouts explore their potential and ambitions, and do so in the company of lifelong friends who share a love of Scouting.Venturer Scouts work to acquire the knowledge and skills for career development; and participate in thrilling outdoor adventures. Weekend events, extended hikes, Leave-No-Trace camping, spiritual reflection, community service and more, round out the Venturer experience.Motto: Challenge!
Rover Scouts
Rover Scouts are the senior Section in Scouts Canada's youth program, and in fact aren't "youth" at all; Rovers are between the ages of 18-26, and take complete control of their Scouting adventures.Although many Rover Scouts have progressed through all or most of the younger Scouting Sections, a Rover Scout is for any young person interested in self-discovery through adventure. Rover Scouts explore how they can fit and contribute as members of their community.Motto: Go beyond!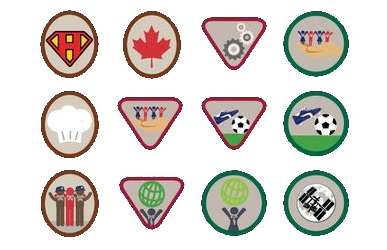 Personal Achievement Badges
Working on Personal Achievement Badges allows youth to further develop individual interests and skills, and affords them the opportunity to bring something of themselves into their Scouting experience. Personal Achievement Badges are section-specific and do not continue with the youth from one Section to the next.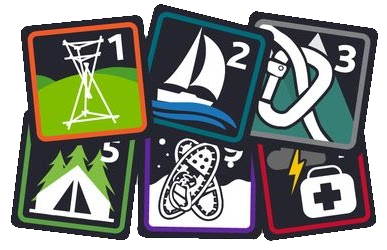 Outdoor Adventure Skills
These are achieved in stages and continue with youth from one Section to the next. They mark progress in gaining skills with camping, hiking, aquatics, winter activities, and more.Only the highest stage earned in any particular skill area is worn on the uniform.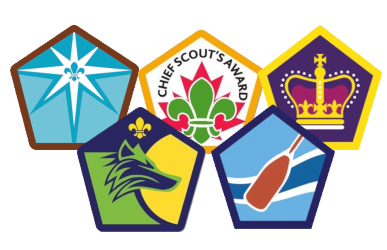 Top Section Awards
Third-years in each Section can pursue the Top Section Award - the North Star Award (Beavers), Seeonee Award (Cubs), Chief Scout Award (Scouts), King's Venturer Award (Venturers), or Rover Scout Award (Rovers) - through a combination of personal progression, accumulated Outdoor Adventure Skills, service hours, and a service project in their community.
Bottle Drives
Next Bottle Drive: October 7th, 2023
Route Maps
Kander100
Kander 100 was "a once-in-a-lifetime Jamboree for young people from around the world and is the highlight of the KISC Centenary celebrations; a Jamboree bringing together Scouts and Guides from many countries and regions in the heart of the Swiss Alps."The Jamboree ran from July 27th to August 8th, 2023. Participants took part in a wide range of activities, including hiking in the Alps, exploring Swiss culture, international campfires, educational workshops and much much more!
Haarlem Jamborette
The Haarlem Jamborette is held every four years in Spaarnwoude Recreational Area, a nature reserve located between Amsterdam, Haarlem and Velsen in the Netherlands. Participants - some 3,500 from around the world - have access to all of the site's amenities, including hiking routes, a mountain bike track, swimming lakes and even a ski slope and a climbing wall.